ABOUT KID ROCK: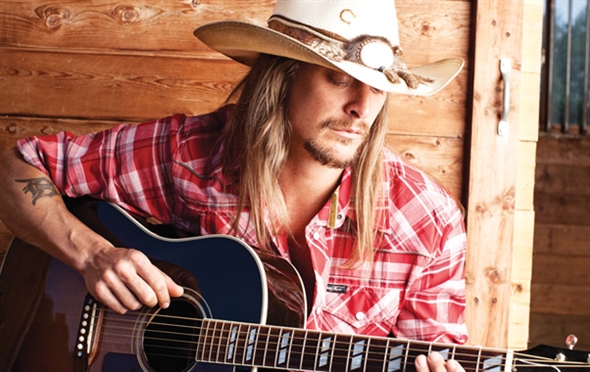 Kid Rock will release his 8th studio album, "Born Free," on November 16th via Atlantic Records. The record was produced by Rick Rubin and mixed by Greg Fidelman. The first single from the album will be, appropriately, "Born Free" which hits radio September 14th. "Born Free" is in many ways a transformational album for Kid Rock. While there is still the edge, wit, and swagger of previous albums, he doesn't rap, there's no metal – there isn't even a parental warning sticker. Says Kid Rock, "The catalyst for this record was Detroit, and my thoughts on the world through the lens of Detroit. Watching everything go downhill over the past few years, the economy, the loss of jobs everywhere, I wanted to make a record that reflected the times but that still had soul." 

The bulk of the album was recorded live in a two week span in Los Angeles with a stellar cast of musicians including Heartbreaker Benmont Tench, Red Hot Chili Pepper Chad Smith, David Hidalgo from Los Lobos and Chavez guitarist Matt Sweeney. Studios in Detroit, Nashville and Atlanta were used to incorporate collaborations with Bob Seger, Sheryl Crow, Zac Brown, Trace Adkins, and in a pairing surely never to be replicated T.I. and Martina McBride on the track "Care." Kid Rock and Rick Rubin, as friends, have spent many hours talking about their respective histories starting in hip-hop, crossing into and creating new territories – as well as the need for a great new American classic rock record that challenges the field. "Born Free" is in part the result of those conversations an album that is meant to be played from start to finish.
ABOUT CHERYL CROW:
Sheryl Crow is an American Singer-Songwriter, record producer, musician, and actress. Her music incorporates elements of rock, folk, hip hop, country and pop. She has won nine Grammy Awards from the National Academy of Recording Arts and Sciences.
She has performed with The Rolling Stones and has sung duets with Mick Jagger, Michael Jackson, Eric Clapton, Luciano Pavarotti, John Mellencamp, Kid Rock, Michelle Branch, and Sting, among others. She has performed backing vocals for Tina Turner, Don Henley and Belinda Carlisle, on her 1991 hit Little Black Book. Crow has released seven studio albums, two compilations, and a live album, and has contributed to film soundtracks. She has sold 16 million albums in the United States and 35 million albums worldwide and her newest album, 100 Miles From Memphis, was released on July 20, 2010. Recently she appeared on NBC's 30 Rock, ABC's Cougar Town, Disney Channel's Hannah Montana Forever and Rally to Restore Sanity and/or Fear.